PRACTICALITIES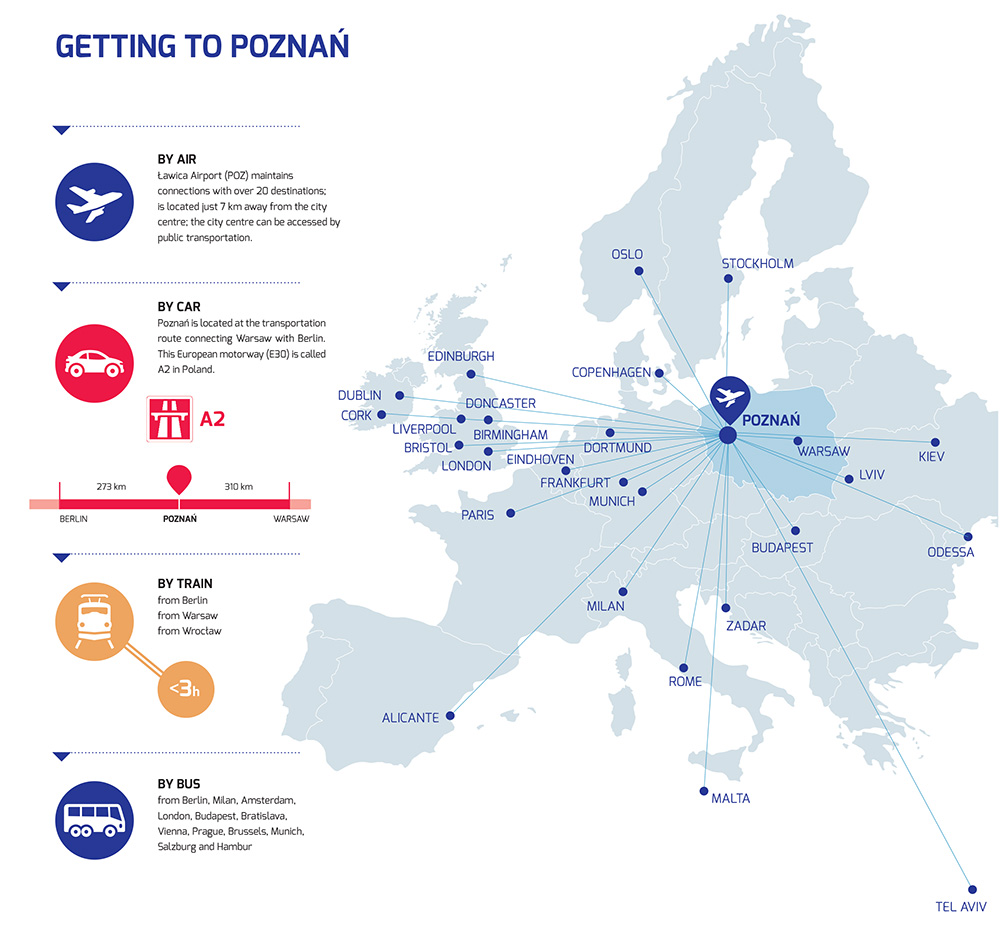 By Air
Poznań-Ławica International Airport offers direct connections with several dozen European cities. Details of connections can be found on the Ławica Airport website. You can take a city bus or taxi from the airport to the city center (7 km distance). At the airport there is a tourist information desk and a currency exchange office. On August 20-28, 2022, there will also be a Congress information desk.
SPECIAL OFFER: Discounted travel with Lufthansa Group Partner Airlines
Lufthansa Group Partner Airlines offer a comprehensive global route network linking major cities around the world. We offer special prices and conditions to participants, visitors, exhibitors, invited guests etc. of the Congress and their travel companions.
To make a reservation, please click on https://www.lufthansa.com/de/en/meetings-and-events-delegates and enter the access code recieved via email in the "Offer for discounted flights" area. This will open an online booking platform that will automatically calculate the discount offered or provide you with an even better offer if another promotional fare is available.
NOTE: Pop-ups must be enabled otherwise the booking platform window will not open.
These promotional fares are also available through your IATA/ARC travel agent. Travel agents can obtain ticketing instructions by sending an email to lufthansa.mobility@dlh.de and providing the access code as a reference.

SPECIAL OFFER: Discounted travel with LOT Polish Airlines
Link to book your travel: PL EN
Event attendees and their travel partners can enjoy fare discounts up to 12% on ECONOMY CLASS, and up to 18% on PREMIUM ECONOMY and BUSINESS CLASS travel.
Discounted tickets are valid for international LO operational flights to Poznan.
Travel period: August 14th – 30th, 2022.
The discount does not include applicable taxes and additional charges.
The discounts refers to one-way and return flights.
The discount applies only to PLL LOT's operational scheduled flights (flight numbers: LO 01 to LO 3999).
The discount does not apply to promotional tariffs.
Discounted tickets may be booked through above link on or before August 21st, 2022.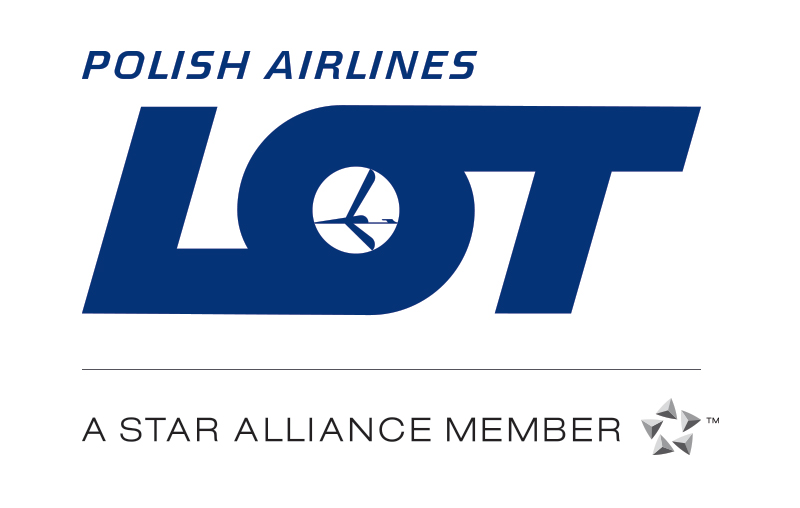 By Train
The Poznań railway junction is located at the intersection of routes between Berlin and Moscow as well as Gdansk and Prague. The journey from Berlin takes about 2.5 hours. It takes about 3 hours to travel from Warsaw.
The timetable can be checked on the websites:
You can also buy tickets via these websites.
By Bus
Many European cities have bus connections with Poznań, including Berlin, Milan, Amsterdam, London, Budapest, Bratislava, Vienna, Prague, Brussels, Munich, Salzburg and Hamburg.
Bus timetables can be checked on the carriers' websites:

On Foot
Moving around the center of Poznań on foot is the most effective way to cover distances. Walking between buildings where the Congress sessions will be held should not take more than 10 minutes. The more distant buildings will be marked on the plans with information on how to reach them.
In Poland, there is right-hand traffic flows on the right-hand side.
Note: Polish car drivers sometimes do not slow down and do not stop before pedestrian crossings or enforce the right of way even if the pedestrian is in a lane, especially outside the city center. Please use extreme caution when crossing pedestrian crossings that are not equipped with traffic lights.
In Poznań, at pedestrian crossings there are often buttons activating the green pedestrian light, otherwise the green light will not come on.
Do not cross pedestrian crossings when the red light is on, even when the road is empty. It may result in issuing a fine.
It is not allowed to cross the road in places not marked as a pedestrian crossing.
Scooters
In Poznań, you can use the following international scooter networks:
Bike
The Poznań City Bike (Poznański Rower Miejski) network includes a few hundred bicycle stations and several thousand bikes throughout the city. They can be rented using the mobile application. Details can be found at https://poznanskirower.pl/en/.
Trams and buses
The center of Poznań is relatively small area about 2-3 km in diameter covered with a dense network of tram and bus lines. The use of public transport for participants of the Congress is free of charge (upon presentation of the Congress ID). Details of tram and bus connections can be found at https://www.ztm.poznan.pl/en/.
Taxi
Taxi stands are located at the airport, railway station and in many places in the city center. You can also call a taxi by phone or using publicly available applications. The use of taxis is safe and the fees should not exceed 5 EUR when traveling around the city center. The average price for ordering a taxi or entering the vehicle is about 1,5 EUR, average price per kilometer is 0,6 EUR. At the end of the journey, the driver is required to issue a receipt with the fare. International companies are also active in Poznań, handling vehicle orders and tolls using mobile applications.

TIME AND MEASUREMENT SYSTEM
Poland is in the Central European Time Zone CET (UTC+1:00). From March to October, the so-called CEST summer time (UTC + 02: 00) becomes effective. In Poland, the metric measurement system is used.

CLI

MATE
The last week of August, when the Congress will take place, is usually warm. The average long-term temperature in Poznań at the end of August was: at 7:00 – 17 degrees C, at 13:00 – 24 degrees C, and at 19:00 – 20 degrees C. The length of the day in August is about 14 hours and 40 minutes.

VISAS AND OTHER DOCUMENTS
Citizens of some countries are required to have a visa when crossing the Polish border. The Polish Border Guard may also demand from foreigners documents certifying health insurance and documenting the possession of adequate amount of money to reside in Poland for the declared period. The Border Guard may refuse a foreigner permission to enter into Poland, even if he or she has a valid visa. The list of countries whose citizens do not need a visa when entering Poland is available on the website of the Office for Foreigners.
Information on the different types of visas and required documents when applying for a visa can be found on the website of the Ministry of Foreign Affairs of the Republic of Poland.
Information on the availability of consular offices in individual countries can be found on the e-Consulate website.
The same page also allows you to submit electronically a visa application, which is required before visiting the consulate.
In some countries it may take a long time to complete visa formalities, so we recommend that you complete your visa application several months in advance.

HOTELS, HOSTELS AND GUEST ROOMS
Poznań has a large number of beds in every standard and price range. Details can be found at POZnan.travel. In agreement with the Technical Operator of the Congress, i.e., the Poznań International Fair, we provide a list of addresses of hotels in Poznań where more favorable prices for Congress guests have been established. To take advantage of the offer requires making a reservation through the Accommodation Department:
WORLD TRADE CENTER POZNAŃ
Joanna Roś (+48) 609 678 321
Hanna Pokorska (+48) 691 033 627
e-mail: accommodation_ichs2020poznan@wtcpoznan.pl
It is also possible to find cheaper beds in dormitories . If interested, please contact: mongra2@amu.edu.pl

ELECTRICAL SOCKETS
In Poland, for home use, alternating current with 230V voltage and 50Hz frequency is used. C, E and F and Europlug sockets are commonly used. Provide appropriate adapters to connect A, B, G and K plugs.

CURRENCY, MONEY EXCHANGE, PAYMENT CARDS AND ATMS
The payment currency in Poland is the Polish zloty (PLN). 1 zloty = 100 grosz. The official zloty exchange rate for other currencies is set by the National Bank of Poland (NBP). The exchange rate table for the given day is available on the National Bank of Poland website.
Currency exchanges can be made in currency exchange offices and banks. In Poznań, exchange offices are located at the airport, railway station and in the city center. Debit and credit cards are commonly used – Visa and MasterCard, less often American Express, Diners Club and JCB. In Poland, you can make money transfers, including via Western Union, and foreign checks. In Poznań, most shops, restaurants, bars, taxis, etc. accept card payments. Payments can also be made via mobile applications and BLIK codes. You can withdraw cash at many ATMs that are easily available. The commission is charged according to bank tariffs.

TELEPHONES AND WI-FI NETWORK
Polish mobile networks are compatible with European and global networks. In large cities such as Poznań, they offer 3G and 4G services. Fees are calculated according to the operator's rates in different ways for citizens of the European Union and other countries. You can also buy a pre-paid card from one of the Polish operators.
The GSM 900 and GSM 1800 standards apply in Poland.
Telephone code to Poland: 0048
Poznan telephone code: 61
Main networks are Orange, Play, Plus, T-Mobile.
Universal access to Wi-Fi networks in large cities is standard. All buildings in which the Congress will be held, as well as other buildings of the Adam Mickiewicz University of are covered by the eduroam network. We encourage you to set up and activate connections on your devices before arriving in Poznań.

RESTAURANTS, BARS, CLUBS
In Poznań there are numerous restaurants, cafes and bars. You can eat local cuisine, but in the city there are also restaurants serving Italian, French, Georgian, Chinese, Japanese, etc. You can find both exquisite and expensive restaurants as well as ordinary bars serving lunches. A list of recommended restaurants can be found on the website POZnan.travel.

PUBLIC TOILETS
In Poznań, in the urban space, there are numerous public toilets marked usually with the letters WC or the word "Toilet". Toilets for men and women are marked with appropriate pictograms.

ACCESSIBILITY FOR PEOPLE WITH DISABILITIES
Public spaces, especially those parts that have been built or renovated in recent years, are easily accessible to people with physical disabilities. Some restaurants and other public facilities are devoid of elevators and driveways. Some of the conference rooms are equipped with induction loops to facilitate the tuning of devices for hearing impaired people.

SAFETY
Poland is a relatively safe country and Poznań a safe city. Polish police deal with general security issues and violations of law. There is also a City Guard in Poznań, which deals with numerous issues in the city, primarily related to traffic.
Emergency number: 112
Ambulance: 999
Police: 997
Fire Brigade: 998

HEALTH AND MEDICAL CARE
There is a public health care in Poland, which services should be used only in emergencies, especially at night. The use of public health care by foreigners is payable or covered by appropriate insurance, purchased before coming to Poland, which is especially recommended. In addition, there are numerous private clinics that provide a wide range of medical services. The use of such services is payable .
CONGRESS VENUES
Most of the facilities in which the Congress sessions will be held are located in the very center of Poznań, with a short distance from each other. These are historic buildings, built mostly in the early twentieth century for Prussian authorities and institutions residing in Poznań at that time. Since Poland regained independence in 1918, they have been serving the University. In recent years they have been carefully restored.
The most important of the buildings used during the Congress will be CK Zamek (Święty Marcin 80/82, 61-809 Poznań), where will be located:
Congress Center (participant registration desk , information desk , chill-out zone)
Research Forum
International Exhibition of Historical Book
Congress Office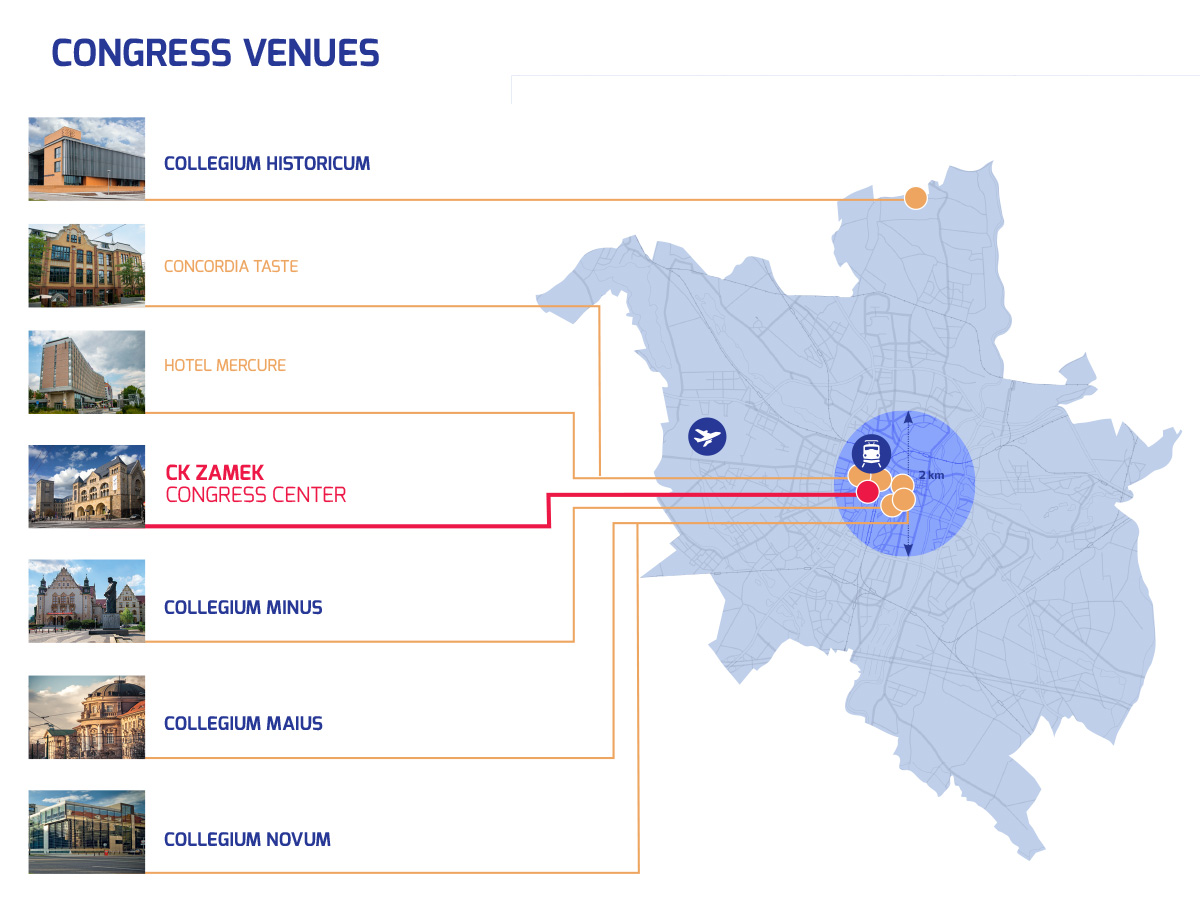 Moreover, the following buildings will be used :
Collegium Minus (Wieniawskiego 1, 61-712 Poznań)
Collegium Maius (Fredry 10, 61-701 Poznań)
Collegium Novum (al. Niepodległości 4, 61-874 Poznań)
Collegium Historicum (Uniwersytetu Poznańskiego 7, 61-614 Poznań)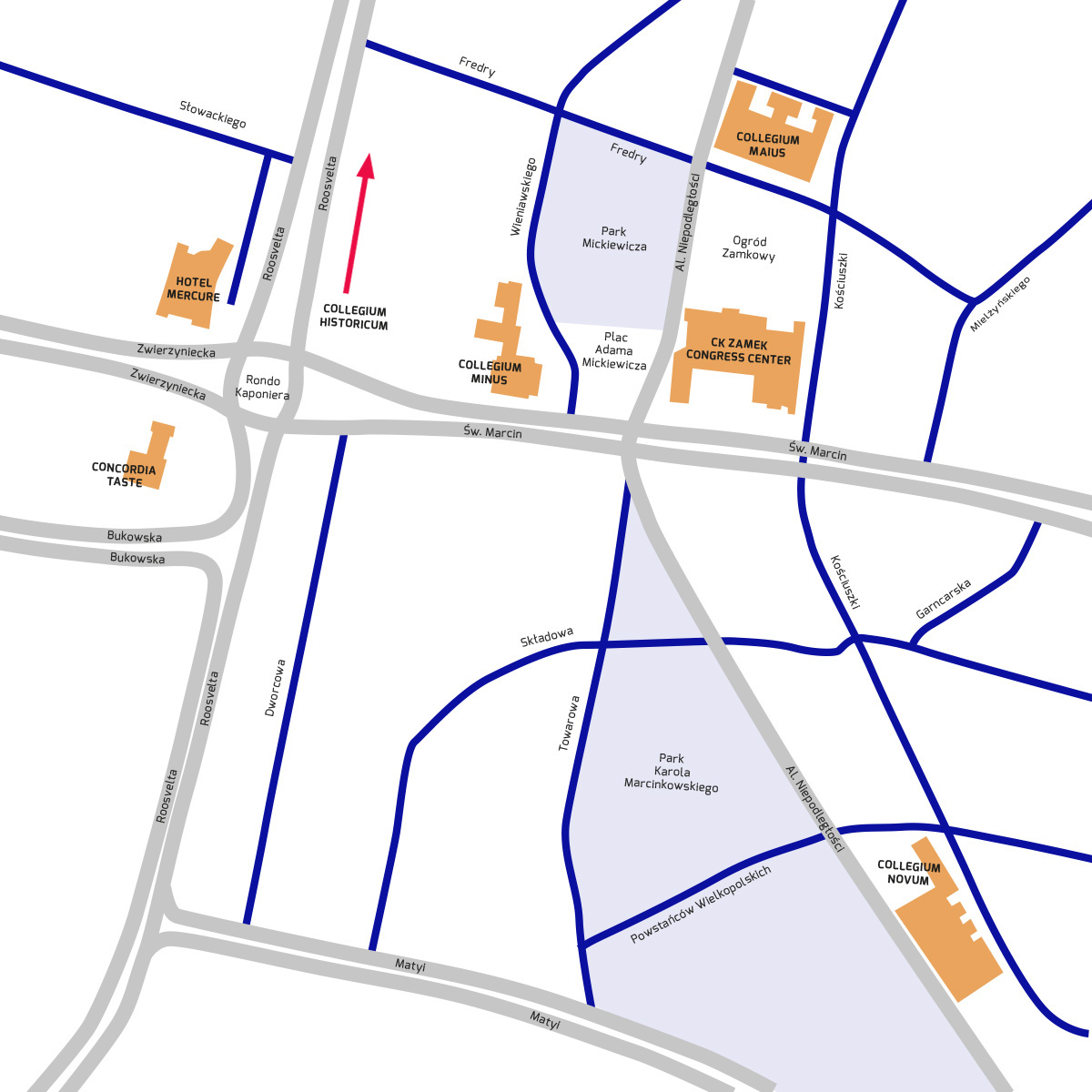 For more information please see: